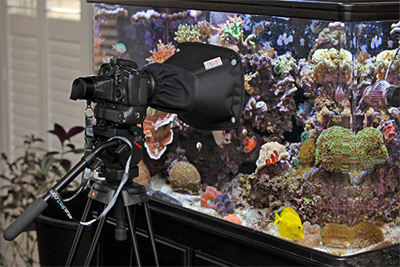 The LENSKIRT was invented by Aaron & Tam Pinto. Being an avid photographer/videographer, there are little things like reflections off glass that really annoyed Aaron when he went into post production. Rather than taping garbage bags and hotel bed sheets around his camera to capture exterior shots through glass, he figured he would create something that was easier to use and more fool proof.
The LENSKIRT came about after many sketches and prototypes. We took a few trips to the fabric store and spent a lot of time brainstorming. Tam would sew Aaron's vision and then we would give it a try. It took over a year to perfect the design and find the best materials to achieve what I wanted. It was a long journey but we are extremley happy with the end result.
Today, the day to day operations are handled Tam. They are manufactured right here in the USA out of premium materials.
Each LENSKIRT is hand inspected in Wichita, Kansas by Tam before she ships, to assure nothing but the best heads out the door.
Hopefully you will find this accessory to be a valuable part of your kit. Go ahead and order one there is a 30 day return policy in the random chance it doesn't work for you. We hope you will be happy with it. It has made Aaron's life easier and reflection free! Now he can shoot that winter long timelapse of the fence in my backyard. Compelling work, we know!